My name is Russell Blair (Russ is fine).  I am a father of 3 and married.  My first introduction to chickens was when I was 5 years old. I come from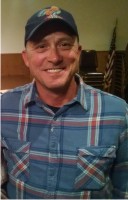 a family of 5 siblings and my Father would raise meat chickens to help provide food for the family.  I had an Uncle who owned a small farm and I would spend weekends with him.  He probably is to blame for my love of small scale farming.  He was responsible for my first chicken, a barred Plymouth Rock hen he for bought me at an auction he would always take me to.
It was not until 2009 after my marriage that I decided to get some more chickens.  After receiving some hatchery layers, I started researching chickens hot and heavy. That's when I first saw Ameraucana's and found the ABC forum.  I picked up my first chicks from John Blehm that year (6 LF Silver and 6 LF Black).  I should of had them shipped.  When I saw his set up, that's when the thought of breeding chickens as my hobby started. In 2010 I first joined the club, at that time it was the ABC.
In true chicken addict fashion, I started my two youngest children in 4-H a year later to justify more chickens. I soon bought LF blue hatching eggs from Wayne Meredith, and started my own line of blues.  After the first year of 4-H I realized LF chickens were too large for my daughter to handle.  So I bought a trio of Black Bantams from Patty Pickard, which John happily brought back from the national meet that year. I also bought a quad of lavender and a quad of silver bantams from John.
At this time I started going to the Fowl Fest to see what poultry shows are all about. Michael Gilbert was selling out all his blue bantams and I jumped all over them.  Of course they were for my daughter and her 4-H project .  After stalking the poultry shows I decided to enter.  I remember winning BB and reserve CH AOCCL at Fowl Fest with a black bantam cockerel.  That was the day my wife regrets the most.  For that was the day I found a new passion.
Since then I have entered several shows and enjoyed meeting all the great people that attend them.  I now breed large fowl silver, blue, black and a project flock of blue silver.  In bantams I breed blue, black, silver, lavender and wheaten. I am a lifetime member of Ameraucana Alliance, and a member of the APA.  My goals are to continue to improve the strains I have.  I also am passionate about our great club, and promoting our wonderful breed.
Russ Blair <Slicktree [at] hotmail.com>