Use our printable order form and mail it with your check or money order.
 
Ameraucana Handbook (2018)- $10 for non-members

Ameraucana Handbook (2018)- $4 for Alliance members
2018 40th Anniversary Edition, includes Ameraucana Chicken Egg Shell Color Reference Chart on back cover!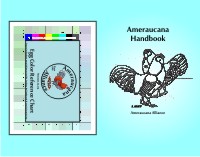 3" Ameraucana Alliance Patch- $5 each
2" x 3" Name Badge w/logo (include name)- $10 each
Ameraucana Directory hard copy- $3 each
All prices are USD and include shipping within the US and Canada.