I grew up in a small farming community in Northeastern Utah.  We kept hatchery leghor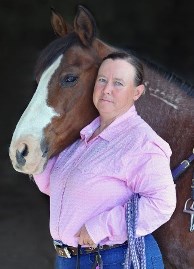 ns that we sold eggs from in our community.  I promised myself when I had a place to do my own chickens as an adult I would not have a plain white bird that laid plain white eggs. LOL
I have had chickens for a long as I can remember but didn't get into exhibition poultry until about 5 years ago.  I actually got my first bantam Ameraucanas from a local lady that was dispersing her flock.  What she had she had purchased from John.

I have fallen in love with the kindness and generosity of those who raise Ameraucanas.  They give so freely of their time, experience and even their birds.
I am also the District 6 director for the Polish Breeders Club and serve as treasurer for the Utah Fancy Poultry Association.
I am also heavily involved with the BLM Adopt a Wild Horse & Burro Program here in Utah.  I serve on the committee for the Utah Wild Horse & Burro Festival and am the TIP (Trainer Incentive Program) coordinator for Utah as well.
Janet Tipton <FlyingTacres [at] gmail.com>