Hi, my name is Janie Vilá. I have always had a passion for animals great or small. The science, the biology, the behaviors of animals has always been something I studied. 
Quite often we visited my grandparents who owned poultry. I think I was 10 when my grandpa started showing his birds. I remember they did not resemble the laying hens they kept. They had a special look to them. He had different breeds and varieties, but the time has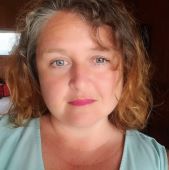 passed,  and I do not remember what they were. I remember the pheasants, crazy and pacing in their pen. The bobwhites calling out was music to my ears. 
I started raising chicken in my early 20's but as life would have it, I had to put it aside for a while. When my husband and I relocated to Virginia it was well known that I wanted to have a small farm with chickens and dairy goats. This is where my true journey of poultry began. 
My first ameraucana was a silver cock bird from John Blehm' s breeding. The silvers are by far my favorite variety. That was roughly 7 years ago. It has been an incredible journey from learning about the breed to owning and breeding the recognized varieties, and learning about the genetics of chickens, dabbling in some project ameraucana while still maintaining the integrity of the recognized varieties.
In the fall of 2022, I had a very nice win with a black hen from my breeding program. She was my first bird on Champion Row. This year at the Ameraucana Alliance nationals in Birch Run my chocolate project pullet was Reserve AOV. 
The Ameraucana Alliance has been a wonderful community for enlightened my curiosity and has helped my breeding program and then showing my chickens. The members are helpful, full of knowledge and encourage each other in individual endeavors. I hope to be a full contributing member of our wonderful club.
Janie Vila <janievila [at] hotmail.com>